Need help with writing an administrative assistant cover letter? Resume101 can assist you in that in various ways. First of all, by reading this article, you will have a better understanding of what employers expect from a person holding this job position, as well as how to write a convincing cover letter. Besides useful tips, this post includes administrative assistant cover letter examples which are great for people who learn better by seeing what they have to produce themselves.
And if you would like to take a shorter route, you can use our cover letter service. We have a team of writers who specialize in creating informative and appealing resumes, CVs, and cover letters, and they have provided future administrative assistants with superb papers on multiple occasions.
It's up to you which option to run with. You can either go and examine the conditions and prices we have for this type of service or check these cover letter examples for an administrative assistant position and make your decision after reading the article. Either is fine by us, as long as you get what you came for.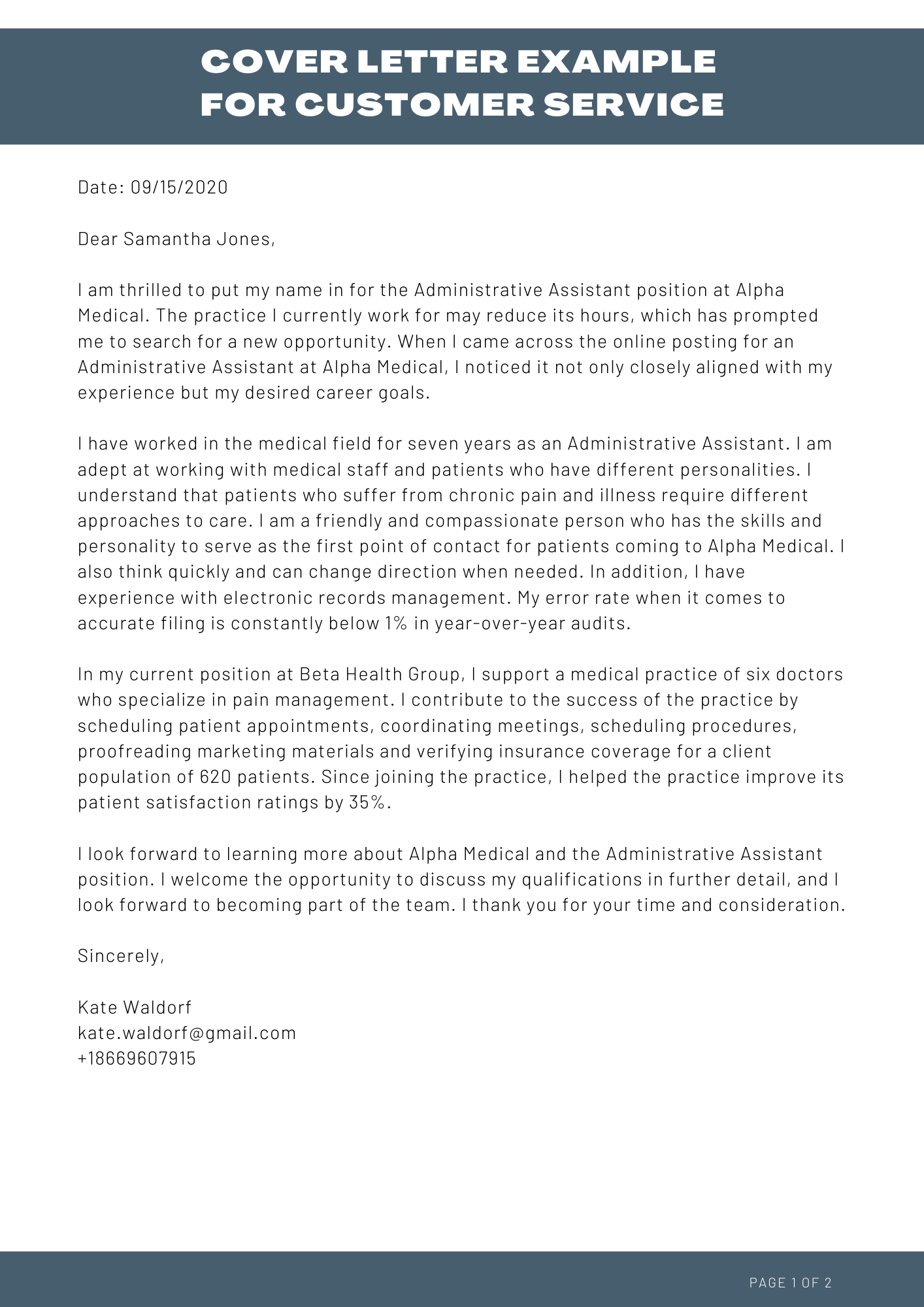 What Is an Administrative Assistant?
You probably know the answer to this question, but let's take a look at it from an employer's point of view. That means, the duties and tasks you are expected to perform. So, what is an administrative assistant? It's a person handling administrative tasks for senior managers, such as managing appointments, arranging meetings, taking care of travel arrangements, writing reports, and keeping filing systems in perfect order. Those are the most common responsibilities, although they can vary depending on a company. So, for a relevant list of duties, check the administrative assistant job description a company makes available to potential candidates.
How to Become an Administrative Assistant
It's possible to get this job without having any particular diploma for it, as long as you possess certain crucial skills, like communication or organizing skills, and are confident with some software an administrative assistant relies on a lot, like MS Office and MS Excel, scheduling programs.
It all depends on the type of an administrative assistant a company is looking for, and while some will have specific and stricter requirements, others will be much easier to satisfy. After all, this job can either entail being someone's personal assistant or performing tasks a secretary or a receptionist does.
But of course, the first question you might be interested in getting an answer to before looking through various openings and evaluating your chances of being the right candidate is "How much does an administrative assistant make?" An hourly rate varies from $11 to $21, the average being about $15, and a yearly salary constitutes from approximately $25,000 to $50,000 with the average equal to around $40,000.
Clearly, it depends on a lot of factors, and sometimes the only way to find out the exact figure is to get invited to an interview. If you're still interested, then let's proceed with answering the question of how to become an administrative assistant. And one of the essential steps to getting the job is having a great cover letter.
Tips for An Administrative Assistant Cover Letter
Writing a cover letter takes a lot of skills and time, especially if you haven't done it before. To get it to perfection, you should keep a lot of things in mind, and even then it requires quite an exquisite workmanship. First of all, you need to understand the goals a cover letter has. The main goal, of course, is to land an interview. In order to achieve it, you need to introduce yourself, mention a few major achievements and experience, display an understanding of administrative assistant goals, show interest in the job and the company, and make a strong case of why you are the right choice your employer will benefit from hiring.
You don't have to write too much, because that might irritate a hiring manager who has to read cover letters on a regular basis. By making yours the right size, you will also show that you appreciate the time dedicated to reading it. There's no consensus on how long exactly a cover letter should be, but it should definitely take no more than 1 page. Some hiring managers recommend writing no more than 250 words. And while that may not be enough and you can go about a hundred words over that, you definitely shouldn't write less.
The key to writing a cover letter that a hiring manager will at least finish reading is to hit the right tone. You need to be respectful but avoid writing generic and cliché'd sentences. At the same time, don't try to be too original and creative. You are a serious professional communicating with another professional, there's no place for goofing around.
Use the administrative assistant cover letter examples provided above to learn what has to go on your cover letter, how to format it, and what general look it should have. And remember, if you feel like you are not quite striking the right note, our writers are always ready to assist you. Feel free to contact our customer support to clear anything up.
Suggested Reading: