Customer service is a perfect job for people with great or at least decent communication skills and the will to help others. The awesome thing about this job is that, in most cases, it requires no specific education to get it, only on-the-job training. Besides, it is an inseparable part of many businesses, varying in the type of services they offer, so you can easily find an open position in a company specializing in what you are personally interested.
There is no reason, however, to expect there won't be competition for that opening, so you need a really strong resume for customer service position to grab the attention of your potential employer. Below, you will find tips on writing it, a sample of such a resume, and an offer to have it written by professional resume writers.
Customer Service Job Description for Resume
There's no problem finding a customer service resume template online and filling it with relevant details. The key to succeeding and making sure your resume is not tossed away at first glance, however, is customizing it for a specific position according to the job description a company has for it. You can, of course, have a general resume, but you won't have high chances of succeeding if you just send it to all the companies. Instead, you should use it as a basis and tweak it according to resume objectives for customer service a company is looking for. For a company to consider you and not someone else, you also need to show that you are interested in getting a job in this company and not just any company.
Here's a sample of a resume, which will show you how to present yourself. You can also use it as a template for your own resume, but do check the customer service job description for resume to be unique and specific for the company you send it to.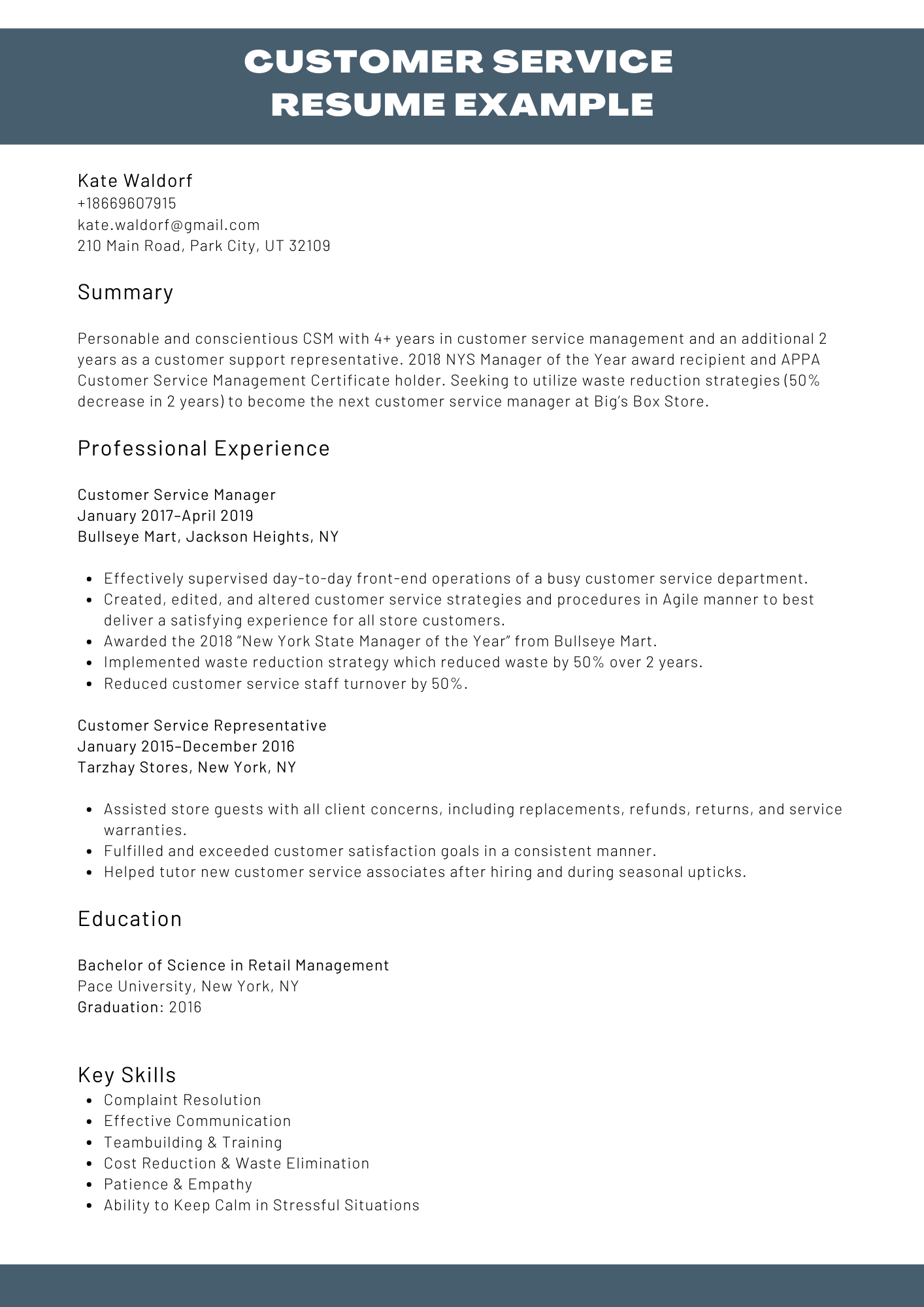 A Customer Service Resume Skills List
There is a basic set of skills for a customer service agent; however, there can be additional requirements based on the company's activity. You need to take those into account and try to reflect on your resume, but you can't go wrong using the following customer service resume skills list:
Communication Skills
It's an obvious mention, but you need to have it to show your an understanding of what the job requires and your readiness to interact with customers on a regular basis.
Listening Skills/Attentiveness
An even more obvious skill which can be considered a part of the previous clause. Yet, an ability to pay attention to what a customer has to say directly influences how quick you can react and help him or her, leading to customer satisfaction and, as a result, maintaining a company's good reputation.
Customer-Service Skills
Customer service is all about being able to satisfy a customer or at least do your best trying to do that. This is especially relevant for difficult customers who are part of the package. While you may realize there is no way pleasing such a person, you need to stay calm and professional all the way through.
Problem-Solving Skills
Most of the questions and problems customers will address to you are covered in some kind of a guide for customer service operators or will repeat so frequently, you will know how to handle them in the best way. However, you need to be able to come up with a solution when this is not the case. If you are resourceful and think fast, both customers and your employer will appreciate that.
Customer Service Resume Tips
So, what else can you do to have the best customer service resume possible? Pay attention to the way you list your previous work experience. While the more common approach is to list it in reverse-chronological order, your most recent places of work may have nothing to do with customer service or prove you will be good at it. It would be more efficient to make two separate lists, where the first one will consist of the relevant work experience, and the second one will include the rest of your employment history.
Customer service is one of those jobs people don't stay for long at, while an employer is obviously interested in finding people who will not quit too soon. To show that you are likely to stick with the job, you can demonstrate it with your employment stability. If that is applicable to you, of course. And if there have been noticeable gaps in your work history, you should organize a resume in such a way that it isn't evident. This can be achieved by focusing on your achievements and relevant experience or simply not listing the jobs before the gap if they are irrelevant to this position.
Another way to improve the chances of your resume being noticed is to include the customer service resume keywords an automatic system or HR manager will be looking for. You can find lists of such buzzwords online, and they may differ depending on the industry you are looking to be employed in.
Finally, you can ask Resume101 for
help writing a resume
for you. Our professional writers know how to optimize it in the best way possible, and they will use the details you provide about yourself and the job you want to be hired for to achieve that. Use your chance to get a resume that will leave your competitors behind!
Suggested Reading: