Naturally, having exceptional engineering skills is great, but it's not a guarantee you will be hired unless you manage to compose a really impressive resume.
The candidate with the best engineering resume will have much more chances than even the most skilled specialist. You must ensure that candidate is you, and we are here to help you do that.
There are two ways you can do this: using an engineering resume template and all the insightful tips we've got for you in this article and the easy way. We are talking about requesting Resume101 to write it for you, of course.
By saving yourself time and the trouble of reading various guides you can also skip the stress aspect of the process and enjoy professional resume writing.
Our company employs experienced HR specialists who know how to present you in the best way.
You should also not doubt whether Resume101 will have the right person for you since our experts specialize in various areas and will provide the best results writing the following types of resumes:
mechanical engineering resume;
electrical engineering resume;
civil engineering resume;
software engineering resume;
chemical engineering resume.
And, yes, it's not only engineers we can produce high-quality resumes for but various other professions as well. It's probably not what you are interested right now though.
So, the following guide is for those who prefer to do things without anyone's assistance.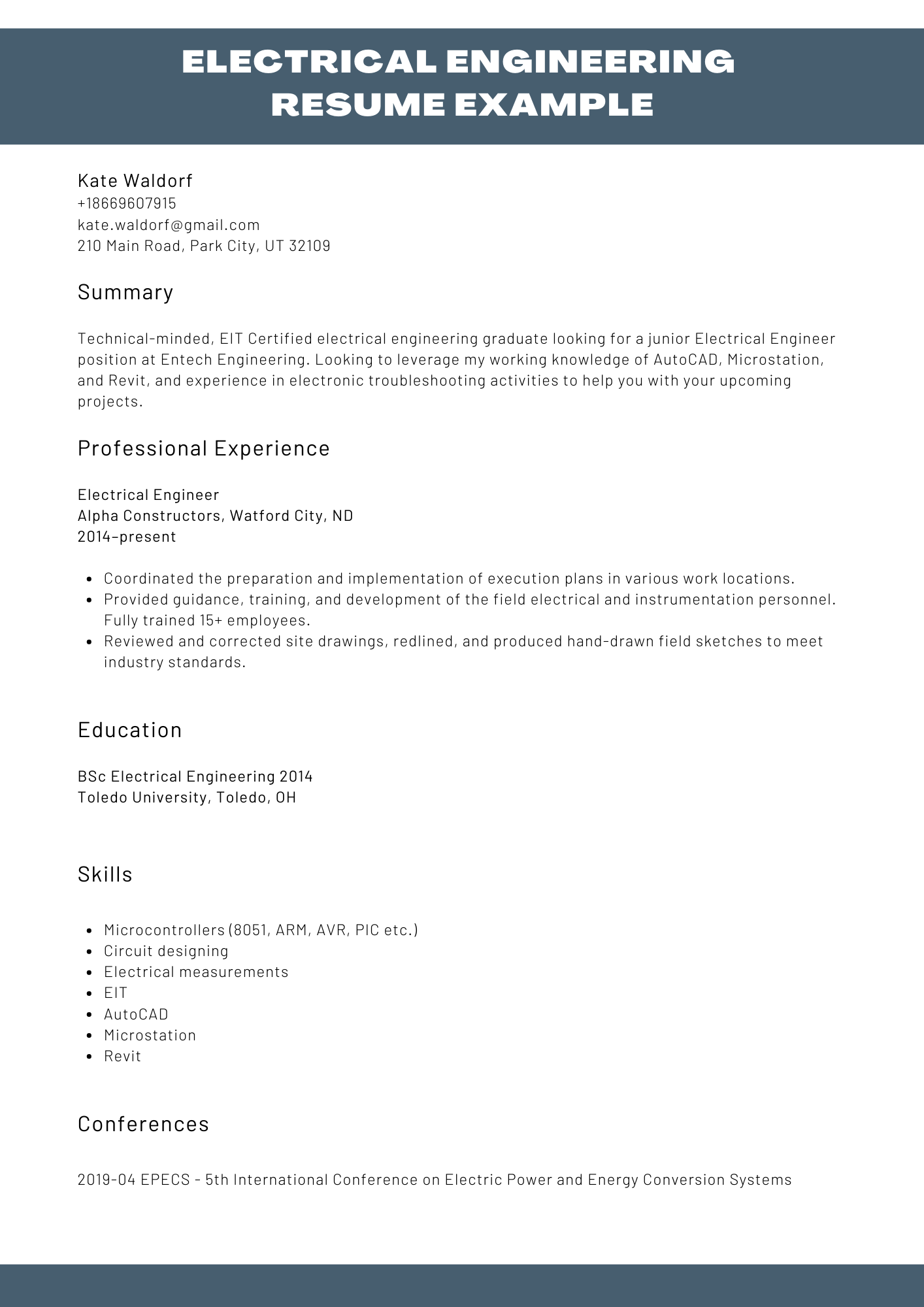 What You Will Learn from This Guide
It does not matter which type of engineering you specialize in, as the resume outline and the general principles will be the same.
Read on to get a better understanding of the following things regarding the paper organization:
Presenting your contact details;
Learning the difference between a resume summary and a resume objective;
Showcasing your engineering experience and achievements;
Listing your qualifications and certificates;
Mentioning your hard and soft skills;
Including other optional sections.
Organizing a Resume for an Engineering Job
Contact Information
Your contact information should go on the top of the page where it is clearly visible and easily located should your potential employer want to get in touch with you.
Depending on the template, it can either be placed at the very top before anything else, next to your name, or even after a resume summary.
Writing your full address is unnecessary, although you might want to indicate the town you live in.
Your email address and a phone number will be much more relevant.
Other means of communication are optional: Skype, LinkedIn.
Have an online portfolio, blog, or website showing off your engineering skills and experience? Consider providing a link.
Resume Summary
Whether we are talking about resumes for engineering jobs or any other, this part has the same purpose and serves as an introduction, containing the key skills and achievements of yours that prove usefulness to an employer.
Fill this section with the job description in mind as it may give you a clear idea of what qualities and skills an HR manager is expecting you to exhibit.
Resume Objective
A resume objective is different from a summary in terms of a candidate's relevant work experience. To be exact, it is used when there is no such history to boast of either due to you being freshly graduated or changing careers.
This form of starting a resume is also applicable when you are not sure there is a vacancy for you at a company.
If or when there is one, recruiters may remember about your resume, retrieve it, and contact you, asking if you are still available and whether you would like to come for an interview.
Engineering Experience
This is your time to stand out because it is quite difficult to possess engineering skills a resume of your competitor won't list as well (especially if mentioned in the vacancy description).
Your career experience and achievements, however, will be the best way to show how good you are and what a motivated employee you are.
For the best effect, mention your greatest achievements and the most prominent projects you have worked on.
Recruiters and company management especially value when you can demonstrate your achievements in numbers, the most notable being those reflecting money savings or other beneficial and easily recognized results.
Qualifications
While your achievements will prove your qualifications as an engineer better than anything, it is still necessary to mention your education and any additional certificates.
And even though not all companies will be limiting the circle of the potential candidates to those who hold a Master's or a PhD degree, engineering is the type of profession that requires certified specialists.
So, do not forget to indicate the educational institution you've graduated, years, and your specialty.
Considering there are many types of engineers, it might be helpful to list the selected courses as well to give your employer a better view of the things you are familiar with.
You know better than anyone that there may be certain licenses required for you to be allowed to do your work, so reassure an HR manager you have them by listing them and other certifications.
Skills
Obviously, hard or technical skills are an essential part of a resume for an engineering job, and you should not hold back on those.
Since a lot of those will be computer programs and tools names, it makes sense to group them, starting with those most relevant to your job.
For example, you can start with computer design programs for modeling, then list the programming languages you know, and any additional software for successful project management.
Now, leave enough space for your soft skills. Being an engineer, you will have to work with other people, or even lead them.
Let an employer know you understand that by listing some of these skills:
Leadership
Communication skills
Teamwork and collaboration
Problem-solving skills
Analytical thinking
Presentation skills
Time management
Prioritization
A Few Optional Sections
There are some additional sections that can go on your resume, and it's up to you to decide whether you should go with any of them.
The decision should be made based on multiple factors: the company you are sending your resume to, the amount of previous experience to list, the size of a resume.
The following sections can help you make your resume more unique, but make sure they don't look out of place or make your resume look like you just threw everything on the page hoping it will work.
Whatever you put on your resume, you should know why you do it and understand how to incorporate it properly.
A Project List
If you have a considerable number of projects relevant to the job you are applying for, you will, of course, want to put them on your resume.
But how do you fit them all?
And will it be a good decision to only mention a couple of them? After all, it's all relevant experience that can add value to you as a candidate.
The best option in that case would be to attach a project list as a separate page.
That way, you will not worry about having to drop some of your key projects but will have enough space to describe each of them in a couple of sentences and share the results.
Languages
This section will not take up a lot of space.
Some engineering jobs require traveling a lot, and knowing other languages may be an indispensable requirement.
However, mentioning it will always be a great bonus.
No need to go into details, that can be done during an interview, just write the languages and your level of proficiency.
Hobbies and Interests
Share your interests to customize your resume even more.
This will also be helpful to a hiring manager to see what inspires you and what kind of a person you are.
Since you will work with other people and be a part of a team, your employer will not be solely interested in your technical knowledge.
The way you choose to spend your free time might even help you make a personal connection with your interviewer.
There is no list of keywords for this section, just be honest and mention a few activities or subjects that you enjoy outside of work. If they are in some way connected with engineering, all the better.
Making Sure You have a Top-Notch Resume
Writing the best engineering resume takes more than looking at a template and inserting your own details.
One of the difficulties of perfecting it is that you won't get any feedback on your resume if it is rejected, thus not knowing what needs to be changed.
That's no longer an impossible task with Resume101, since there are not only experienced engineers on our staff but also HR managers.
They can check your resume and evaluate your chances of getting noticed due to it and offer ways to improve it.
Or, if you are too unsure or don't want to spend a lot of time crafting your own resume, you can order it to be done for you.
It will be both faster and more efficient, so set all your doubts aside and contact Resume101 for a shortcut to your dream job.
Suggested Reading: