You have found the dream job, your resume is ready and waiting to be mailed, but the company requires a cover letter to be a part of your application package. With cold sweat running down your spine and your mind as blank as the text document you need to fill, you are out of ideas. What do you say in your cover letter? How many details should you include? Will three pages be enough?
Today we'll answer these questions and more providing you with clear, actionable tips on keeping the cover letter at perfect length. A cover letter sample is waiting for you at the bottom of this post. Check it out before you start writing.
How Long Should a Cover Letter Be?
The perfect length of the cover letter is the balance between the time you are willing to spend on writing it and the time the hiring managers can devote to reading it. You might spend days agonizing over the wording and formatting, but the recruiters will hardly spare more than a minute on your cover letter. Therefore, it should be concise, effective, and compelling.
"Please, hire me!" is too short and effective, while a 10-page account of all your accomplishment is too lengthy. The accepted standard is:
Word count: 250 to 400
Number of paragraphs: 3 to 6
Length: 0.5 to 1 page
With these numbers in mind, let's talk details to make your job application a winner.
Tips on Writing the Perfect Cover Letter
Structure the Letter Around Your Target Position
Think of the cover letter as a college essay. Your introduction should hold the thesis (your interest in a certain position) and the hook (a fact, a short anecdote, or a number to catch the recruiter's attention). If you are preparing a bunch of letters for different positions, customize the introductions to include job titles and company names to avoid confusion and mistakes when sending your applications.
The body of your cover letter is where you can highlight relevant experience, work history, and skills. It's not a biography, so review your resume and the job description and pick the positions and skills that show you as the best candidate. As with the resume, quantifiable results are the best proof of your professionalism that emphasize your knowledge and skills without making you sound arrogant.
In the final paragraph, reiterate your interest in the company and the position offered. Wrap up the letter with a call to action. Ask the recruiter to contact you to set up an interview, suggest a face-to-face meeting or a Skype call. Include your email, phone number, Skype login, LinkedIn profile and any other professional contact information you deem important. This will make it easier for the recruiter to reach out to you right after reading your cover letter.
Tailor the Letter to Your Relevant Expertise Level
Depending on your target position and experience, the cover letters will look different. Here are some examples of how to keep the writing concise and on point:
If you are a recent graduate, leave the college metrics out and focus your letter on your academic and extracurricular accomplishments that highlight the ways you meet the employer's requirements. For example, your debate club experience is more important than GPA when applying for a sales manager position.
If you are changing careers, list only your past responsibilities and accomplishment that are relevant to a new career path. To go from a teacher to a software developer, highlight your experience with teamwork, high-stress conditions, and unreasonable expectations.
If you are moving up the corporate ladder, avoid the experiences that paint you as a cog in the corporate machine and focus on the tasks that put you in charge and tested your leadership skills. The perfect cover letter for a future team leader can list your time as a softball team coach, the head of the PTA, or your initiative to offer fruit instead of muffins in the office cafeteria.
Format Cover Letter like the Resume
When all documents you send out are formatted the same, your application package looks professional and clean. Use the same color scheme, typeface, font size, spacing, and margins. Remember to balance the text with white space to avoid the cluttered look and make your letter easy on the eyes.
Cover Letter Sample
With our tips, writing the perfect cover letter should be easier. However, learning by example can speed up the process. Use our sample to guide your efforts, but don't waste too much time analyzing its strengths and weaknesses. Instead, write the first draft, let it rest while you reread our tips and sample. Then, return to your cover letter and edit it to perfection. It may take a while, but the results will be worth it when you get an interview invitation and a job offer. You can also use our service which will help you in
writing the perfect cover letter
.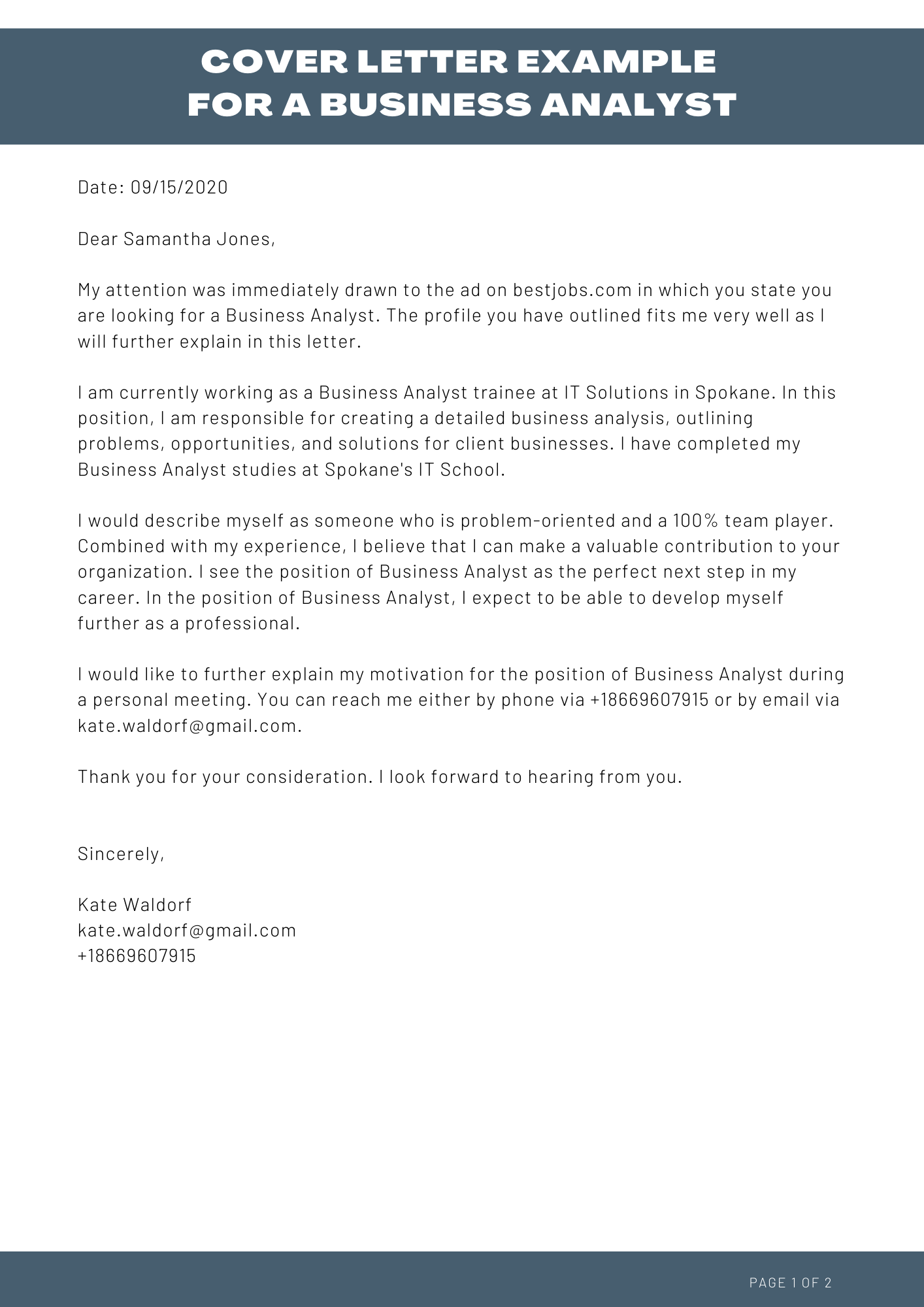 Suggested Reading: