Some people believe that it is not a big deal to get a position of a receptionist. You are not required to have solid experience or some specific technological skills. A person who has such a job has to answer calls, organize meetings, optimize schedule, and do some other pieces of routine work. At first glance, almost anybody can cope with this type of work making at least a little effort. However, reputable companies handle the employment issue very seriously, and the position of a receptionist is not an exclusion.
It is not enough just to send a receptionist resume where you mention that you have such experience of work. You need to take a serious approach when writing a resume for receptionist and keep in mind that a prospective employer wants to hire the best candidate whose work experience matches the job requirements 100%.
We have analyzed a hundred of the most successful receptionist resume examples and singled out a list of things that each job-winning resume should have. Take a look at them and check whether your job application contains them.
Duties of a Receptionist
To understand what to write in a resume, one should first know clearly what a company expects from a person who occupies this position. In other words, you should be familiar with the duties of a receptionist. Take a look at the following list which contains the most common duties that every receptionist should be capable of performing.
Greeting and welcoming guests
Providing a positive impression of the company
Being polite and answering the guests' questions
Informing employees about new visitors
Answering phone calls and maintaining mail correspondence
Providing administrative support
Scheduling travel
Organizing meetings and coordinating them
Ordering office supplies
If you are not ready to perform some of these duties, then maybe you need to reconsider your future career. If all these duties are acceptable for you, and you have even done them before, then read this article further and find out what receptionist resume skills are necessary to be mentioned.
What Receptionist Resume Skills You Should Include
All professional skills are divided into hard and soft. First of all, employers pay attention to hard skills as they are more critical for getting a position. However, soft skills are not less important, and a good candidate should also have a solid list of qualities which are directly connected to the profession.
Hard Skills
Supply management
Information management software
Multi-line phone systems
Knowledge of Microsoft Office programs
Fast typing
Use of office equipment
Soft Skills
Excellent verbal and written communication
Customer focus
Organization and planning
Attention to details
Conflict resolution
Time Management
Multitasking
That's a standard list of skills which any employer would like to see on your resume. Do not forget to include them, and be sure that you have almost got the job in the company.
What to Write in a Resume Summary
A resume summary is often understood wrong by many people. Many candidates usually write  things that are too general like "I am a friendly and helpful receptionist, who has both good written and oral skills. I am attentive to details and have great time-management skills." That is the example of a resume summary that you should not have. On the one side, it satisfies the main expectation of almost any employer because that's exactly what a right candidate should be. However, on the other side, such a resume summary doesn't catch the attention and seems exactly the same as a dozen others.
To stand out from the multitude of job applicants, you need to be more specific, and the best way to do that is to focus on your achievements rather than general statements. "Within the last 2 years of work, I successfully handled 100+ phone calls on a daily basis and got not a single complaint. My customer satisfaction rating was 95% according to feedback forms. I speak English and Spanish fluently and am currently learning the German language."
This example of a resume summary will attract the attention of a prospective employer more because you underline what exactly makes you a great receptionist. Instead of stating that you are a good candidate, it is better to provide some facts which will explain everything without bright epithets.
Receptionist Resume Sample
Those were the main points that we wanted you to pay attention to. To get a desired job of a receptionist, you should know well what obligations you will need to cope with and have the skills essential for this position. Also, you must capture an employer's attention once he or she starts reading your resume, and thus, a resume summary should sound convincingly. If you manage to implement these things into your resume successfully, the remaining part of your job application might not even be interesting to an employer since he or she will already make a decision about you.
To see how all these things that we have discussed should be organized, check this receptionist resume sample. You may even use it as a template to make corrections in your own resume, or if you don't have one, use it as a guide to create your receptionist resume or use our 
resume writing service
.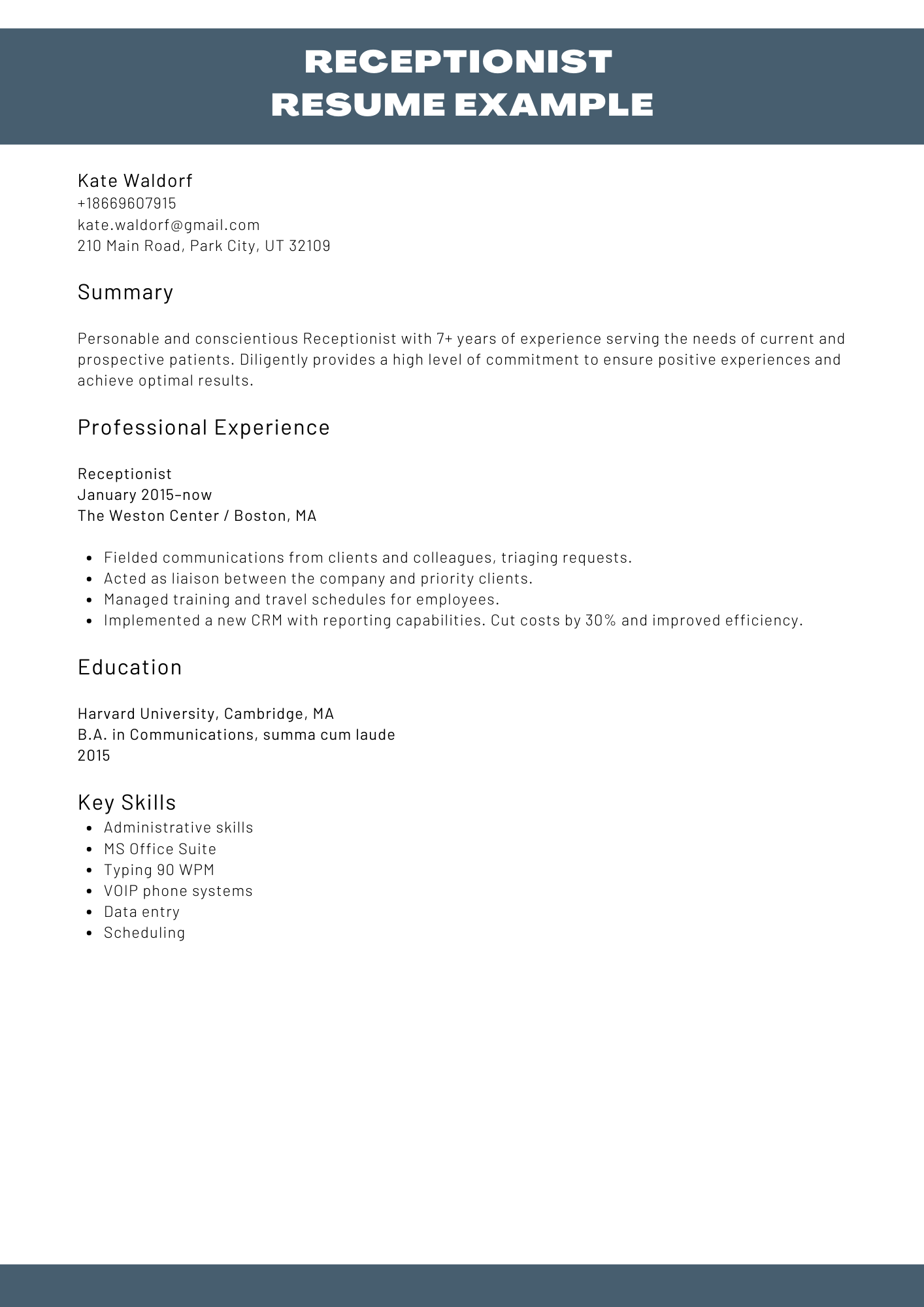 Suggested Reading: