TABLE OF CONTENTS
If you are looking for a job, why not aim for some of the top companies in USA? Perhaps, that was your initial plan. Or, perhaps, you thought you are not qualified enough to even consider them. If you think applying for a job in one of those industry-leading companies would be nothing but a waste of time, you will be surprised by your chances of actually becoming the winning candidate. So, why deny yourself an opportunity to get the best place to work in USA instead of settling for something lesser?
The good thing about the potential places to work at listed below is you pretty much know that they will meet all the key requirements you are looking for. Otherwise, they would not get on the lists drawn up by Forbes, Fortune, or Glassdoor as the best companies to work for in the US. Surely, you still need to do some research and not just send your resume to the first company from this list that has an opening for your specialty. But at least you don't have to worry about some basic stuff like a competitive salary, an opportunity to grow professionally, active internal communication, a workplace that has all you need to perform the tasks as well as to motivate you to remain productive and creative.
The most useful list of companies in USA for you is probably the one made by Glassdoor, because it's made according to the companies reviews left by their employees. And since many company representatives agree that employees are their most valuable assets, it's best to look for those enterprises that make sure to take care of their staff. The suggested places to work you'll find below obviously understand that idea very well and follow the principle of keeping not only their customers satisfied, but their employees as well.
Luckily for you, even the most successful companies have job openings. Some people simply want to try something new, others feel like they can achieve even more at a different place of work, or maybe a company is simply expanding – whatever the reason for a vacancy, you can always count on the company searching for new specialists. Find the company that is most appealing to you, check their official websites for the Careers section, and see if there is a relevant job opportunity for you.
Bain & Company
Bain & Company is one of the world's largest management consulting companies, with 58 offices in 37 countries. It's fairly old, operating since 1973, yet very modern and constantly evolving, allowing it to remain the industry leader. Working with all kinds of companies, starting from local to global organizations, including non-profits, as well as private equity firms, Bain & Company helps them to outperform the stock market by 4 times.
What Does Bain & Company Do?
If that didn't answer the question "What is Bain and Company?" for you, let's go into more details of what it specializes in and offers to its clients. Bain & Company advises company leaders on various matters to help them reach the best results and improve their status.
The range of areas the consultancy offers improvement for is quite impressive: their specialists help to develop a better strategy, offer organization changes, provide advanced analytics, advise on corporate mergers and acquisitions, suggest workplace transformation tips, help with the implementation of relevant technology, and so on. Now, if you consider the company's own demands, the list of Bain & Company jobs is much longer, covering even more fields of knowledge.
The Jobs at Bain & Company
You don't have to be into consulting and hold a degree in finances to work at Bain & Company, because, considering the company's size, there are constantly job openings for various specialists. And so, along with the more obvious vacancies like an analyst, accountant, manager, you can also see there's a need for such spots as business writer, motion graphics animator, digital media specialist, recruiter, IT specialist, graphic designer, event specialist, and more.
The great thing about Bain & Company is they hire undergraduates, as well as degree holders and experienced professionals. The former can be hired as interns or associate consultants, where they undergo on-job trainings, get to learn while working, and receive support from their colleagues.
Bain & Company Reviews
The company's attitude towards its employees is the key reason for the Bain and Company Glassdoor rating, which has been high for years, earning it the 1st place for record-breaking four times, including the last one, and letting it stay in top four positions out of the total of 100 over the last 11 years.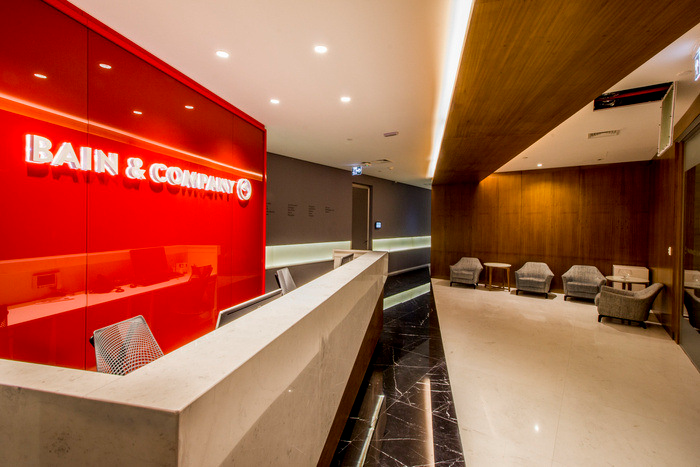 Besides being labeled the Best Place to Work for in 2019 by Glassdor, Bain & Company has also been listed among the Best Places to Work for LGBTQ Equality 2018 (Human Rights Campaign), the Best Companies 2018 (Working Mother magazine), and Mogul's Top 100 Innovators in Diversity & Inclusion 2018. There are even more awards and prestigious titles Bain & Company has received, but those are the ones best showcasing that the company is very successful at providing the most favorable conditions for its employees.
Bain & Company is often praised for its corporate culture, creating a healthy working environment where everyone supports each other. Its employees are often called "Bainies", and there's even a saying "A Bainie never lets another Bainie fail." This seems to be evident if you look at the Bain and Company reviews left by its employees on Glassdoor. Speaking of numbers, out of over 2.5 thousand reviews, 95% would recommend the company to a friend, and many reviewers speak fondly of their working experience.
The most often mentioned advantages of working at Bain & Company are great firm's culture, supportive colleagues, good salary, interesting tasks, and opportunities for professional development. As for the cons, Bainies say that sometimes they have to work long hours, which makes it difficult for them to manage life-work balance. However, that is understandable and comes with challenging objectives that keep the company at the top and lets its employees evolve as professionals during their employment there.
Southwest Airlines
Southwest Airlines is the world's largest low-cost carrier, with approximately 58 thousand employees. Having been established in 1967, the company management realizes that the Southwest Airlines low cost flights are only possible if it treats its employees in a way that they feel grateful and willing to contribute to the company's legacy. Surely, keeping such a large staff satisfied is no easy feat, yet Southwest Airlines seems to be dealing with it just fine, serving as an example for its competitors and other enterprises.
The Southwest Airlines Glassdoor rating is the best proof of that, placing it on the 10th place in the Top 100 US Companies to Work For according to employees. It's a constant name on the list since its establishment by Glassdoor in 2009 and even held the top position in 2010. Now, let's see what employees have to say about the company and their impressions of working there.
Southwest Airlines Reviews
According to an average Southwest Airlines review on Glassdoor, they consider it a great place to work and would recommend to a friend (84% out of about 2,000 reviews). Over 80% applied for an interview online and found it easy or at the most average in difficulty. The pros that stand out more than any others are company culture, the way employees are treated, free flights, and other benefits.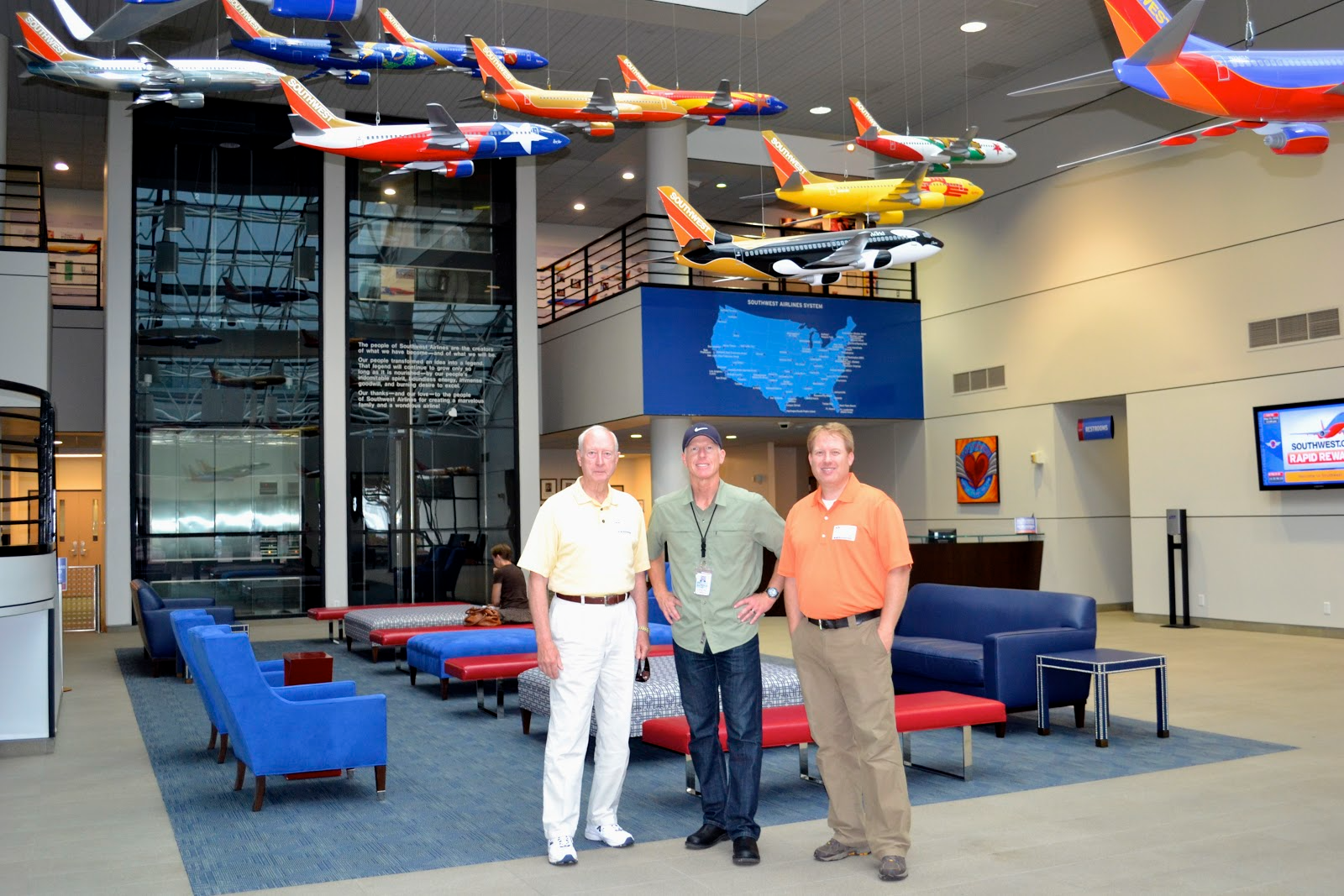 When it comes to cons, many reviewers point out long working hours and tough training, but they say that it's only difficult at first and you get used to it. As for some employees who left negative reviews, they also mention hard work, mandatory overtime, inability to find a common language with other employees and managers, and low pay.
Those complaints can be found at pretty much any company, and it's clear that your experience may differ depending on the Southwest Airlines job you get and the division you're hired to. What matters is that the company keeps the percentage of those who didn't enjoy the experience as low as possible, remaining one of the best places to be employed at.
You can figure out what are the most common jobs an airline company would have openings for, but the full list, of course, includes more than pilots, flight attendants, mechanics, and flight dispatchers. The best way to find out if there's something for you is by checking the Southwest Airlines company website, especially since you can apply online. Perhaps, you will be interested in getting employed as a ramp agent, a customer service officer, a software specialist, or some other position. Even if you haven't considered such a workplace before, the benefits may make you dwell on that for a bit longer.
The Benefits of Working at Southwest Airlines
For their dedication, employees are rewarded with great benefits, obviously showing that the company appreciates their services. First of all, if you would like to travel often without spending as much as you usually would, you will love travel privileges Southwest Airlines offers to their employees and their spouses/partners, children, and parents. You will get tickets for free, for any flight, and as often as you want. But that's not all the package includes, as you'll get discounts for hotels, car rent, and other elements important for joyful traveling. You'll probably agree that it's a fantastic bonus, but is Southwest Airlines safe? Well, according to the 2012 study, it was in the top 10 safest airlines in the world, and it still remains a reliable airline with an incredibly low number of accidents.
Other benefits include medical coverage, insurances, and health-related perks, offering some great options. Last but not least, come financial rewards. There's a ProfitSharing Plan, which rewards employees with a certain percentage of their salary. It depends on how well the company fares and can constitute up to 16%, although more commonly it's around 10%. Another offer is buying the company's common stock at a 10% discount, which becomes available to those who have been working at Southwest Airlines for half a year.
One of the best financial benefits Southwest Airlines has got for its employees is matching their contributions to 401(k) retirement plan up to 9.3% of their salary. So, coupled with a ProfitSharing Plan, you can get additional 20% of your salary paid by the company for your own benefit. And then, there are also wellness awards, development programs, volunteer events to contribute to the community, and other benefits a Southwest Airlines employee gets along with the experience.
Salesforce Company
Salesforce is an American cloud-based software company that was established in 1999. Nowadays, it's a leader in providing a customer-relationship management service, which is its main domain, but it also offers a number of other software solutions for marketing automation, analytics, and application development. As of 2019, Salesforce has around 35 thousand employees and yearly revenue of about $13 billion, making it a rapidly growing and successful business.
You can check the Salesforce Twitter to see what the company is up to. Since it's pretty active in keeping everyone updated about their achievements, programs, and other relevant news, this is a great way to become familiar with your potential workplace quickly.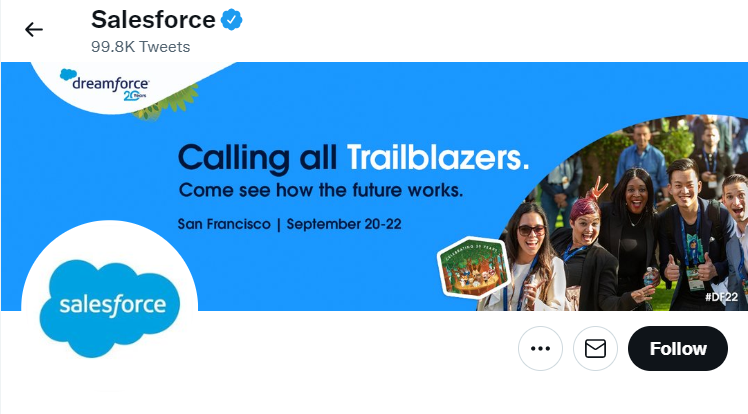 What is a CRM platform?
Some may still be confused about what the company does. What is CRM platform, which Salesforce is first and foremost? As stated above, it stands for a Customer Relationship Management platform, and it offers businesses tools to guarantee easy-to-manage storage and usage of information regarding their customers, business partners, products, and sales. And since Salesforce is a cloud platform, it's especially comfortable for businesses to access it and coordinate their work, no matter the size of a company. That is why more than 150 thousand companies have been using Salesforce in order to track sales, provide customer service, manage marketing, and implement overall development of the business.
In other words, as a company grows, so does the volume of data it has to store and access efficiently to continue satisfying its customers and reaching the goals. And that's when Salesforce comes in, offering convenient solutions and a set of tools on favorable conditions for the companies to grow and boost productivity.
Why Salesforce?
It should be clear by now why Salesforce is attractive to companies, but why would it be a good choice for you? The best way to answer that is by checking what its current and previous employees have to say. And they definitely favor the company very much, since on Glassdoor Salesforce has been rated enough to place it on the 11th place in Top 100 Best Companies to Work for. It has been on the Glassdoor's list since its first publication in 2009 and has been gradually moving from the middle of the list to its top.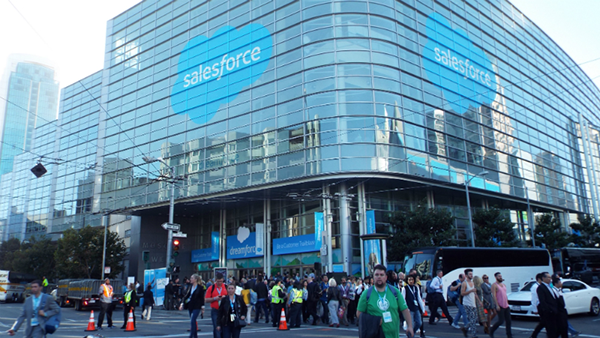 Pros obviously prevail, and those that are mentioned most often include great company culture, competitive benefits, excellent management, and a healthy work-life balance. At the same time, many reviews point out that it's difficult for them to maintain that balance working at Salesforce since they often have to work long hours and feel under pressure with the fast pace the company wants to maintain.
Other complaints are related to the company's disruptive annual reorganization. Some employees feel that it prevents them from seeing certain projects through till the end and devalues their efforts in contributing to reaching the goal. Obviously, that's highly subjective, since Salesforce does extremely well and most of its employees seem to be fine with such practices. However, that's something you should take into account if you are interested in working there.
How to Get a Job at Salesforce
If you consider applying for a job here and want your Salesforce resume to be truly impressive, let Resume101 writers check it and suggest improvements or write it from scratch, saving you even more time. And if you intend to do it completely by yourself, check our Salesforce review to find out more about the company, what to expect as an employee, and what the hiring process is like.
For available jobs, visit the Salesforce company website where you can search by typing the job that interests you or use filters to show all the current openings shown by job category, location (country and city), job type, and a form of employment (full or part-time).
Edward Jones Company
Edward Jones is one of the US largest and oldest financial investment firms, nearing the age of 100 years since it was established in 1922. Around 45,000 employees are working for the company, serving almost 7 million investors and helping Edward Jones receive approximately 7 billion dollars in annual revenue. That is the short answer to the question "What is Edward Jones?" We have established that it is a prestigious company to be working at, so let's move on to the prospects of getting employed there.
Get a Job at Edward Jones
Don't just leave yet if you think financial investments are not your cup of tea. Considering the size of the company, you can expect there to be a job opening that may be the right one for you. So, you can end up working for Edward Jones doing what you already know and are good at. Large companies like this one always require employees in all kinds of areas.
The company has been constantly featured on the FORTUNE's list of best businesses to work for, and on Glassdoor Edward Jones has received a high overall rating of 4.1. Due to the reviews left by its employees on the site, Edward Jones was also included in Glassdoor's Top 100 Companies to Work for in 2019. So, what does Edward Jones do to keep its employees satisfied and working for the benefit of the company? We've checked those reviews to find out just that.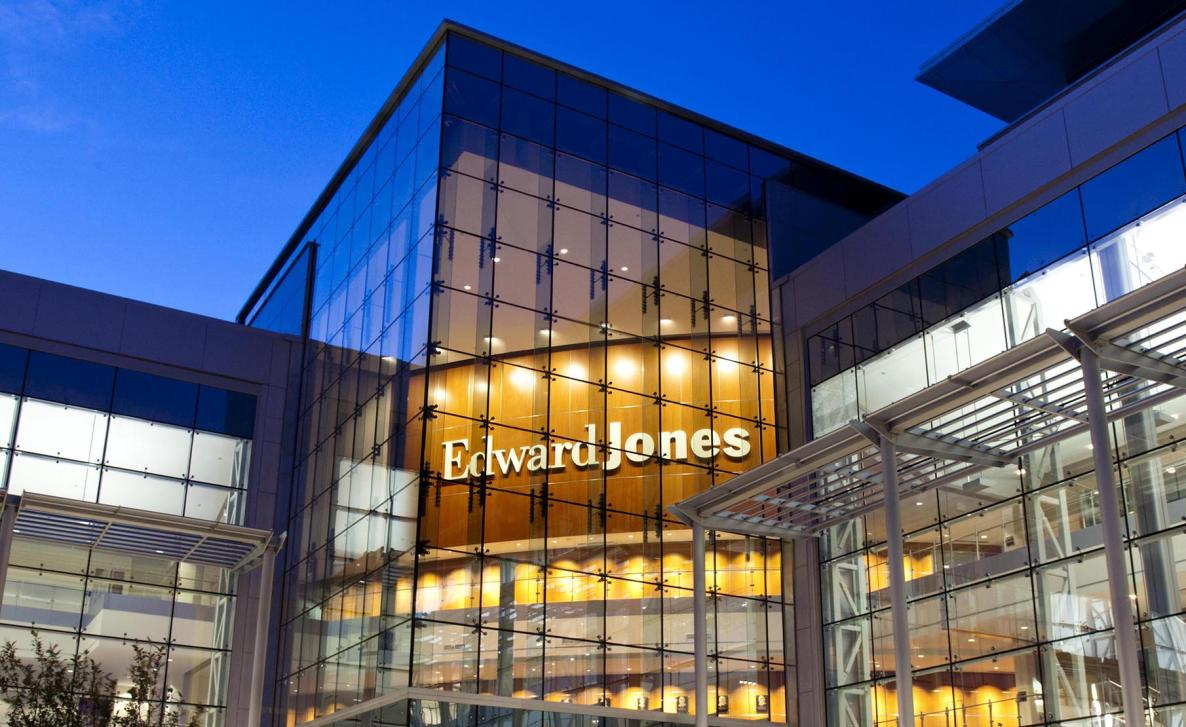 Pros and Cons of Working for Edward Jones
Out of 2.6 thousand reviews, almost 80% say that they would recommend Edward Jones to a friend. In general, there are some common pros and cons you'll see when reading the reviews, but most of those who shared a positive opinion agree that the negative aspects come with the job and are to be expected. Those are door-to-door prospecting, which is something new employees get to do a lot, trying to attract investors, and having to work long hours, which is also mostly associated with the first years of working for Edward Jones.
As for the advantages one can get there, those are much more substantial. Many Edward Jones employees praise the corporate culture, which is manifested in support from the colleagues and the head office. Another definite advantage is numerous trainings aimed at preparing new employees for the job and help everyone develop some important skills. Finally, a common positive comment says that there's no limit to how much you can earn working at Edward Jones, although it may be associated with having to work overtime and work hard.
If you are interested in taking a shot and trying to get a job here, read our Edward Jones review for more tips on what to expect and check the company's website for openings that may be suitable for you.
Paylocity Company Review
Paylocity is a company which provides HR software and payroll solutions for different kinds of businesses. It has been on the market since 1997 and gained much success.  Paylocity logo is widely recognized by thousands of business owners and their employees. 
Why  Use Paylocity
Workers are always impatiently waiting for the salaries. We can't say so about employers. A Payday is usually associated with numerous calculations and tables. Business owners can make their lives much easier, using reliable payroll software. It helps to deal with tax compliance, withholdings, and numerous calculations. 
A Web Pay is not the only one leading product of a company, they also offer labor and time trackers, tax filing, and talent management solutions.
Paylocity Glassdoor Reviews
Are you looking for a Paylocity review? Go to the Glassdoor website where you can find rating and reviews about a company. Paylocity is on the 20th place and gained a 4.4-star rating. It has been the best place to work from 2017 to 2019. A software company won an award Top Ceos in 2019, 2017, 2018 and 2014.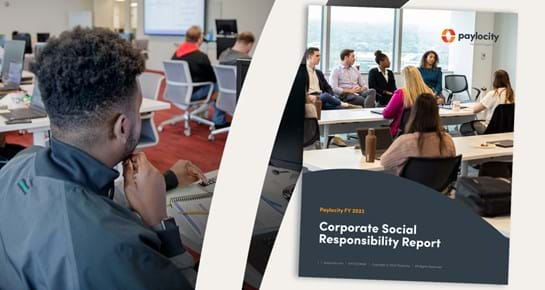 81% of people who left their comments, would recommend Paylocity to their friends. They mentioned a lot of advantages of working there. Just look at some of them:
 a company  provides pleasant working conditions;
 it is a constantly developing business that cares about its staff;
 employees can work from home;
 offers competitive salaries.
Paylocity is known as a company which cares about its workers. It stimulates employees to improve their skills and to grow professionally. That's why so many people want to be employed in this progressive and fast-growing business. 
Paylocity Mobile
Nowadays, it is impossible to imagine a modern world without mobile devices. Employees are welcome to use the Paylocity mobile application on their handsets. It has a lot of benefits and allows:
to get access to the payroll and personal information;
to check schedules and day off requests;
to update contact info;
to keep up with the latest corporation news;
to get push up messages announcing about approved days off. 
Paylocity Jobs
Paylocity is a constantly growing company, and new employees are always welcomed. If you want to be employed at the company, go to Glassdoor where you will find a list of the most hirable workers. Some of them are IT Managers, Implementation Consultants, Senior Web designers, QA Engineer, Asset Management Analyst, Tech recruiter, etc. 
How to be employed at Paylocity
No doubts that many employees will be glad to get a job at Paylocity. A key to successful employment is a professionally written resume. If you have never written a CV or you are afraid to make some mistakes, leave this job to professionals. Our Resume writing service will be glad to help you with creating a detailed CV to get a dream job at Paylocity.
Getting Hired by the Best Companies to Work for in America
In many cases, getting hired by one of these top companies won't require having a Ph.D. or decades of experience (although some job positions might). What will be one of the decisive moments is writing a good resume, CV, and a cover letter. You can definitely expect a lot of people competing for the same position as you, and the companies' hiring managers spend mere seconds to scan a resume before going to the next one. That means that your application documents need to be not just perfectly organized, but written well enough to make your potential employer read them all and contact you for inviting to an interview.
If you want to be absolutely sure your resume or cover letter is written and organized correctly, creating an image of a perfect candidate for the job, Resume101 can take care of that for you. We specialize in writing resumes, CVs, and cover letters for various jobs, so you can count on our experienced writers to present you in the best way possible, increasing your chances of getting the job you desire.
Suggested Reading: