TABLE OF CONTENTS
A resume is the key to the job you want, and it needs to be approached with heightened attention. There should not be any rush here, as though a resume is a small paper, usually only one or two pages long, it takes a surgeon's precision to write a job-winning resume. An experienced human resources manager will not waste time on what fails to impress after giving it a quick glance. The least you can do is make sure your resume is done in conformity with the common standards.
To write your resume or rewrite an existing one, you can examine the resume examples for various professions we are providing here. You will find them below, along with some useful comments on structure and key elements for this type of a document. These resumes serve as a good demonstration of how a good resume for a particular job position should be organized.
However, it may happen that your resume will never even get to a human being due to failing to pass an applicant tracking system. Companies use the ATS system to sort out resumes applied online or sent in digital form according to certain criteria they are interested in. 
Now, we offer you some good resume examples, as well as tips on contents, structure, and skills list which you can use to draft your own passport to the job of your dream.
And if you want to skip the fuss and save yourself some time, Resume101 has got experienced professional writers who will cooperate with you to provide you with an exceptionally well-written resume that will not let your potential employers simply ignore it.
Manager Resume
All resumes for managers are pretty much the same and are meant to show you are the right person for a position and exhibit the traits needed to manage whatever it is you are required to manage. Managing your resume is the first step to getting ahead of your competition.
What to Include In a Manager Resume
The structure of a resume for manager position consists of a few sections which need to be presented in the following order.
Professional Summary
This part is very important as it comes first and has to interest your employer in reading the rest. Therefore, you need to make it concise yet effective, telling who you are, what valuable skills you possess, and what impressive accomplishments you have that the company should know of.
Core Qualifications or Highlights
However many skills you have, it's no use trying to fill the whole page with them. You need to prioritize them properly and list the ones that will likely influence your potential employer's decision first. Check the job description once again to find out what those are and mention them first if you have them.
Employment History
There are two formats one can use when listing previous work experience. The chronological style stipulates listing your previous jobs, starting with the most recent one. Each job should contain a company name, job title, and the duration of your employment. It should then be followed by about 3-6 bullet points showing your duties and accomplishments on that job.
The Functional Style
It is used to show your most notable accomplishments without listing them under a specific job. Besides, instead of mentioning them chronologically, you can start with the achievement that will be the most appreciated for the job position you want to get, showing what a valuable employee you would be.
Education
Despite the impressive work record you may have, the education section should not be overlooked. Start with the highest degree you've got and list the rest. No need for details here, only the name of the educational institution, its location, and your degree. If you have any certifications, list them here under an individual sub-heading.
Management Resume Examples
To help you grasp what a manager resume should look like, we have prepared a few samples you can analyze. See how they are organized, which skills are chosen to showcase the candidate, and how it looks overall. It's important to keep in mind that while a resume should contain as much relevant information as possible, it should be easy-to-read, be divided into sections that are easy to locate, and have enough white space on the page so that the HR manager doesn't get irritated and dismisses it at once.


Business Development Resume
The structure of a business development resume is very similar to a management resume, and there is a comprehensive guide on our site explaining how to write this type of a paper. So, you can check it for more details, tips, and an example. And here, as not to copy the same information, we will focus on the objectives a business development manager resume pursues.
Why a Business Development Manager Resume Objective Is Important
The objective statement gives you a chance to convince an HR manager that you will not only be a good fit for a business development manager position but that the company will benefit from hiring you and not someone else. This is a very significant job, as you are going to be responsible for developing the strategy of increasing the company's profits.  So, everything on your resume should serve as proof that you can do that.
As someone who is expected to analyze the company's position on the market and work together with a sales department to achieve higher sales, you need to exhibit the skills that will help you do that. The objectives on your business development manager resume also have to show that you understand how to reach the common goal.
Business Development Resume Sample Objectives
For a better effect, mention the company's name in your objective statement. That way, a reader will clearly see who will benefit from hiring you. Next, we'll list examples of objectives you can use to write your own ones:
Disciplined and results-oriented professional with experience in developing a revenue plan and coordinating its implementation with a sales team is looking for employment as a Business Development Manager at (the company name).
Obtain a Business Development Manager's position at (the company name) to conduct market research using the broad experience and presentational skills.
Use skills of evaluating the financial potential of a development strategy and customer feedback for contributing to the increase in profits for (the company name) as a Business Development Manager.
Resume Samples for a Business Development Manager
Upon reading our guide and checking the available business development resume sample, it should become perfectly clear how to use all those tips in practice, securing the desired position.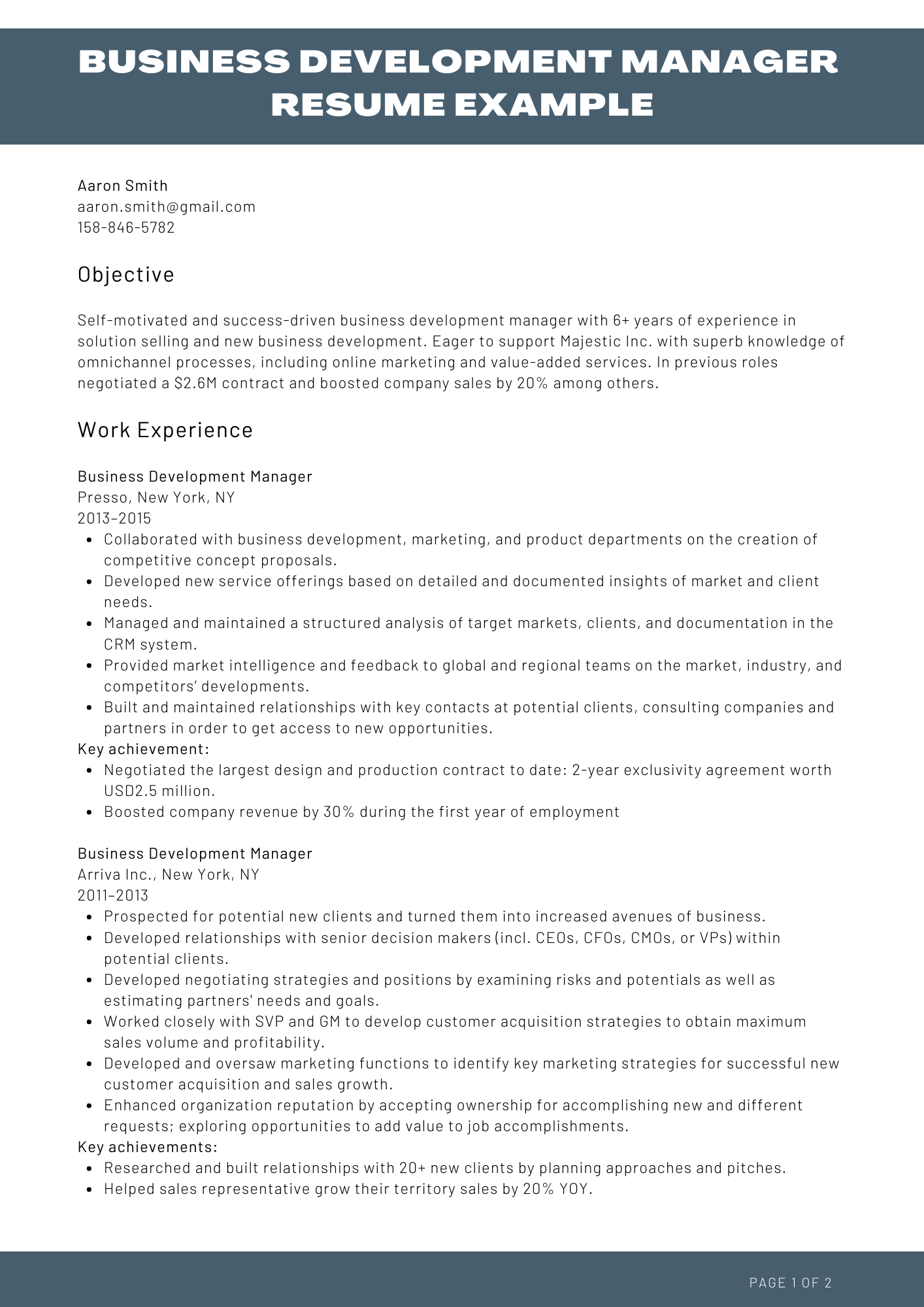 Financial Analyst Resume
As a financial analyst, you are expected to manage a company's money and evaluate which investments are worth making. For this reason, employers have very high standards for this job, and competition is strong. We have prepared a guide on which financial analyst skills your resume should have to be considered. You can read it to find out how to list your skills properly and achieve the best results.
Tips on Improving Your Financial Analyst Resume
We would like to cover some points that may help to significantly improve your financial analyst resume. Granted, these tips would come in handy for other professions as well, but right now it probably only matters to you that your resume gets picked out of hundreds of others.
The Format
Make sure you choose the right format for you. In most cases, listing your jobs in reverse chronological order while mentioning your duties and achievements will be much more preferable and help the employer to see your growth as a specialist.
The Length
Some financial analyst resume guides and samples suggest having a two-page resume as a standard. However, if you are absolutely sure that it's necessary, it's best to limit your paper with one page only. There's no need to try and extend it by mentioning less important and notable skills or bloating your professional summary. A concise one-page resume that only lists your most valuable skills and remarkable achievements has more chances of not being dismissed by a hiring manager. The easier it is for them to navigate your resume and see key information, the better are your chances.
Achievements
Many jobseekers make a fatal mistake of concentrating too much on their skills and forgetting to list their achievements when writing the employment history. Make sure to include both, but after a short mention of your responsibilities on each position provide a bit lengthier recollection of how you dealt with them and which improvements were introduced by you.
Design
Stick to stricter and more traditional design options. Experimenting with it may not only make a bad impression on an HR manager who will be lost or annoyed looking at your resume, but it can also get rejected by an ATS system due to the use of some unusual font.
To help you by having something to compare your resume with, we are offering to take a close look at these financial analyst resume examples. You can see how they handle all of the issues we mentioned above, as well as which skills are listed to create the best image of a candidate based on his/her merits.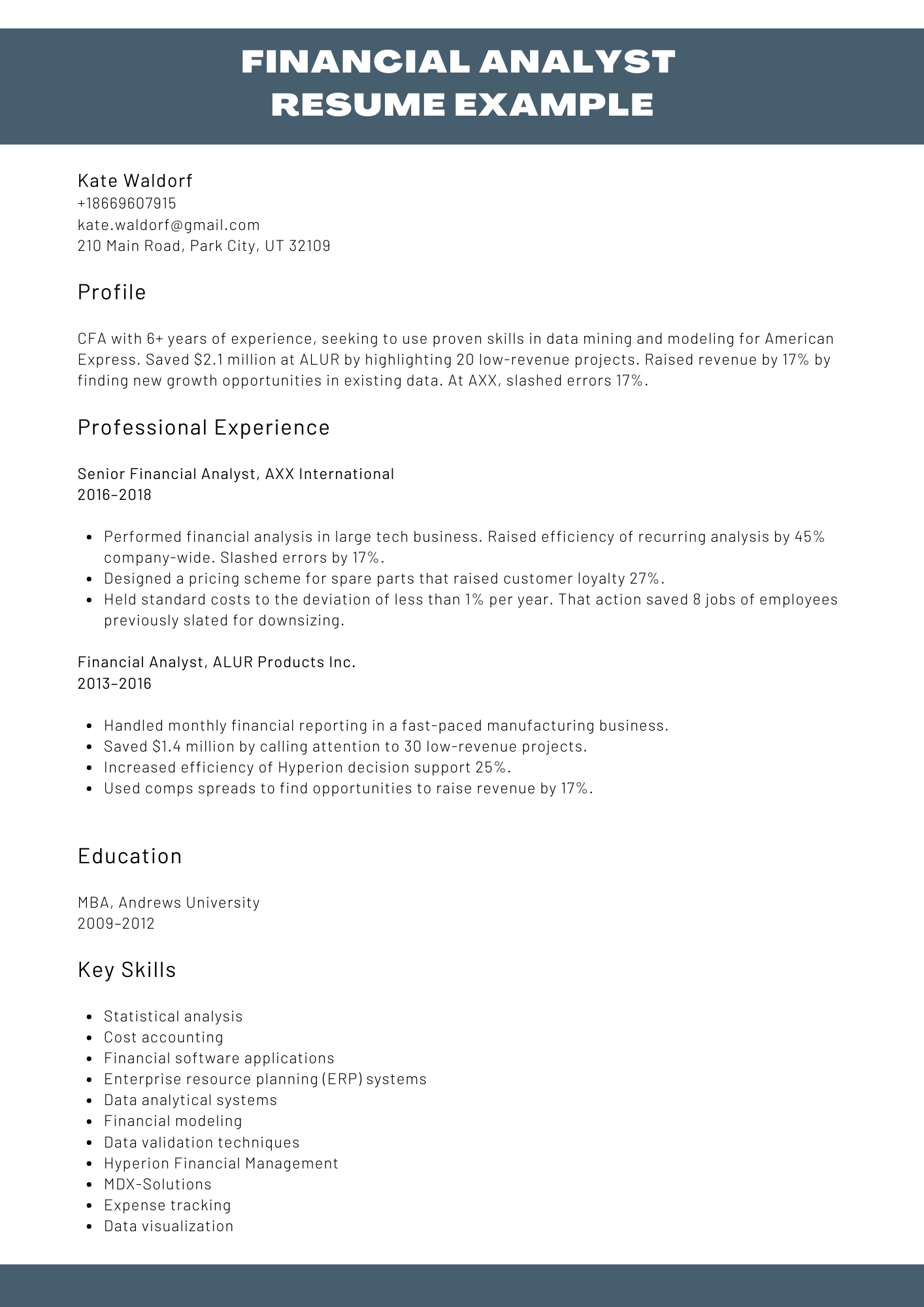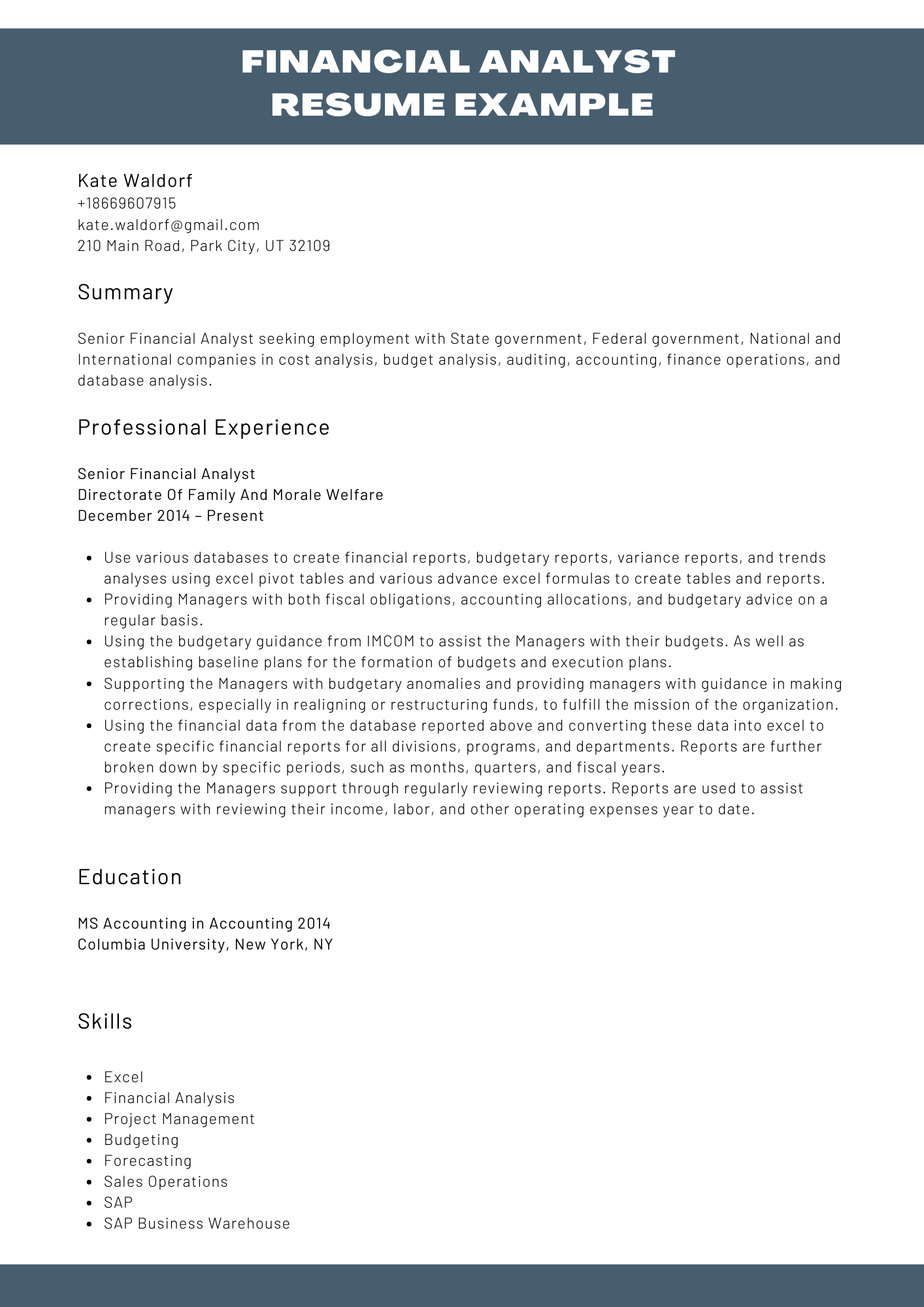 IT Resume
Even though various specialties fall under IT, there are not really different approaches to writing an IT resume for each of them. Whether you are a database developer, technical writer, or a network engineer, it all comes down to the same basic rules and practices. You need to provide relevant information, show an employer that you are the person for the job, and all that within 6 seconds. That's how much they spend on average on one resume, dealing with these documents all the time and knowing where to look at and what to pay attention to in order to find the perfect candidate.
Mistakes an IT Resume Should Be Free Of
Now, of course, if you have managed to grab the attention within that short time, your resume will be subject to closer scrutiny. It's your mission to ensure that an employer will not change his or her mind upon reading the whole thing. You can start by getting IT resume templates that correspond to your job position. The next step would be to write it, avoiding some mistakes people make in their IT resumes.
Keep your resume two pages maximum. We know that listing all your skills as an IT specialist may require several pages, and you have worked too hard to simply skip some of the software languages you're familiar with. Yet, you should first list those skills directly mentioned in the job description and carefully group the remaining ones. If an employer is interested in any of them, you will be asked to tell about them in more details during the interview.
Even though you are applying for a technical job that does not mean that only your hard skills matter and not the soft ones. Don't leave out your communication, negotiation, teamwork, creativity, and other skills, they also play a crucial role in you being considered for a job.
An IT professional resume should be providing the fullest possible picture of a candidate and is not the place for you to write what you expect an employer to be. You should present yourself and state clearly which of your skills will be beneficial to the company.
Finally, a simple rule that many applicants still manage to forget about: do not use the first-person pronouns (I, me, we) on your resume. Check our IT resume samples to see how it should be done.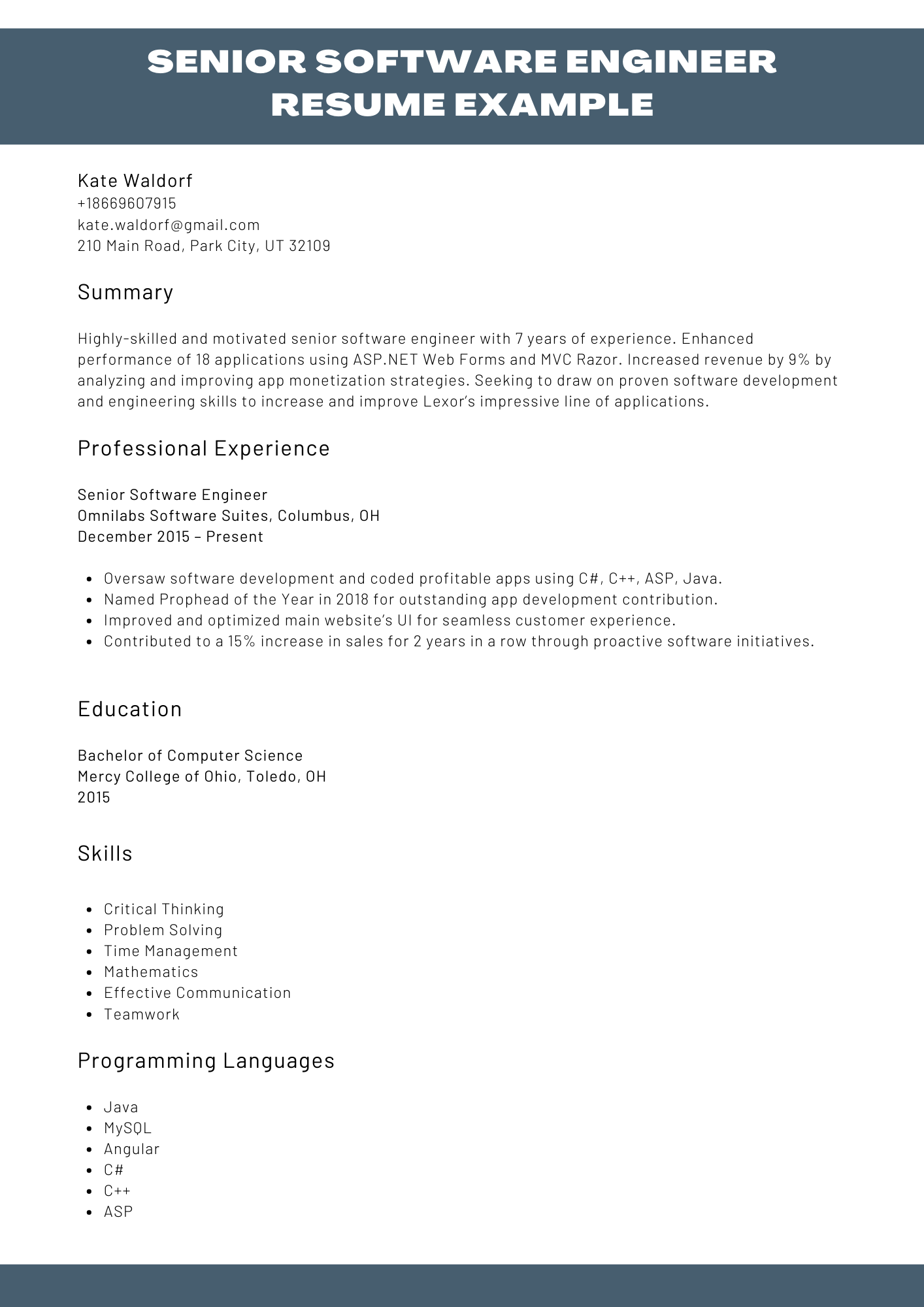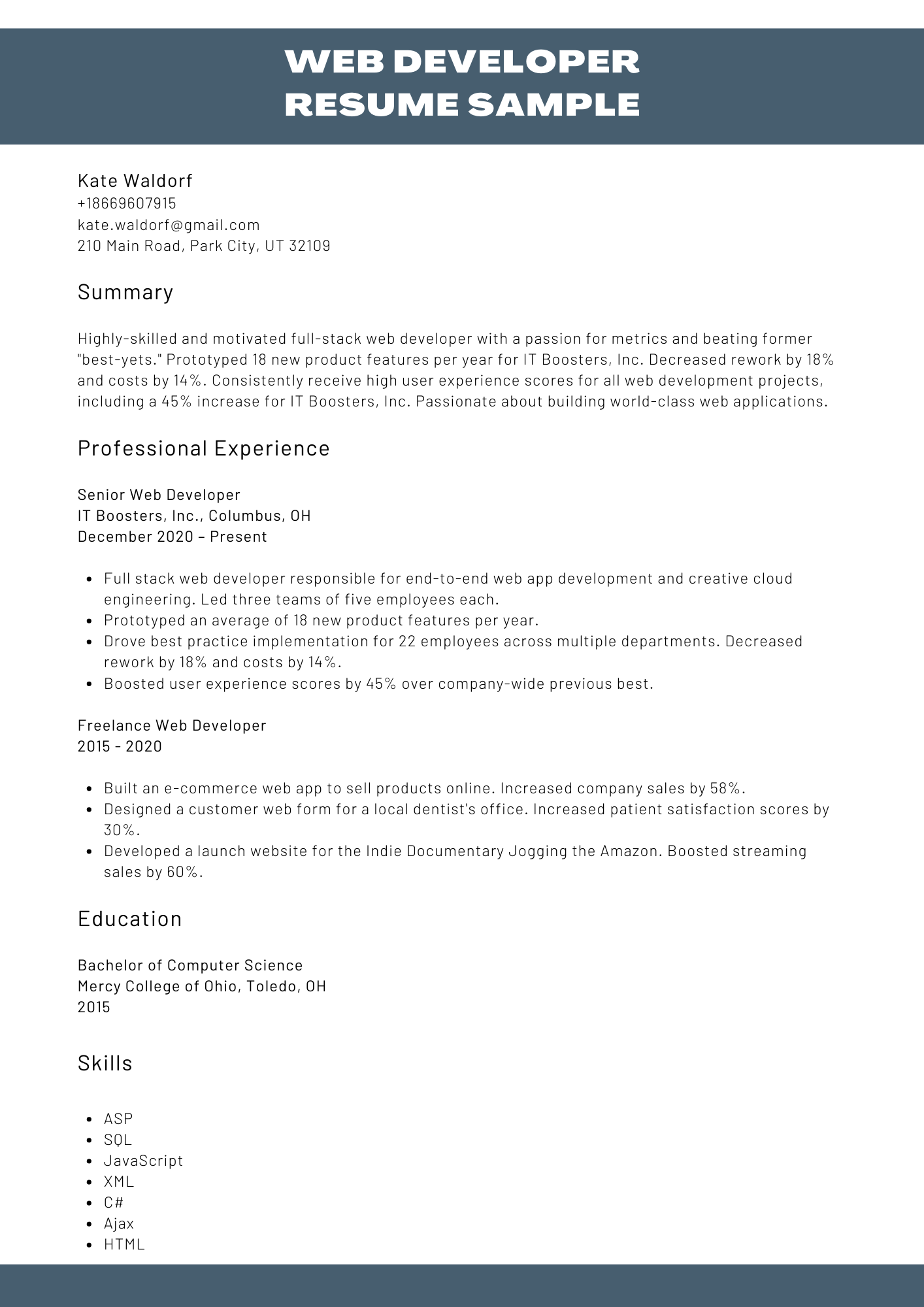 Engineering Resume
If you need an engineer resume, it means you'll have to offer one that is better than those written by other well-educated and highly-skilled professionals. And as it often happens, all your skills and knowledge will mean nothing in that particular case unless you prove yourself to hiring managers in the short time (mere seconds) it takes them to scan a resume for key information and make their mind on whether it deserves a closer look.
How to Write an Engineering Resume
There are two main styles you can use for your engineering resume format to make it easy-to-read and cover the important details. The first one is a chronological resume, and it's the one employers are most accustomed to. It consists of contact details, resume summary, employment history, skills, and education.
With a functional resume, a new section is added after listing your places of work, and it's Achievements (also can be titles as Accomplishments). Although you do mention them as well in a chronological resume when listing your previous employers, it's a separate and more detailed block here. This style is a better option for those resume writers who have some gaps in their employment history and would rather focus on some of their projects or results of their work the previous companies benefited from.
There's a third option, which is to combine both styles. The choice depends on the impression you want to make and whether you have enough notable achievements that deserve a separate mention.
You can read our concise guide on how to write a proper engineer resume for more useful tips.
Writing About Your Engineering Skills
One of the main purposes of a resume is to showcase the skills you possess. Those should be not just any skills, but the ones that an employer specifically mentions in the job description. Naturally, you want to prove you meet those criteria and list those first.
The skills section of an engineering resume consists of two sub-sections, technical and management skills. The latter should be properly represented as well as all the software and hardware you are familiar with. As you may be looking forward to becoming a part (or even a head) of an engineering team, an employer will need to be reassured that you are a fit candidate in that aspect as well.
See our engineering resume examples to get an understanding of what needs to be mentioned and how to balance all the resume sections.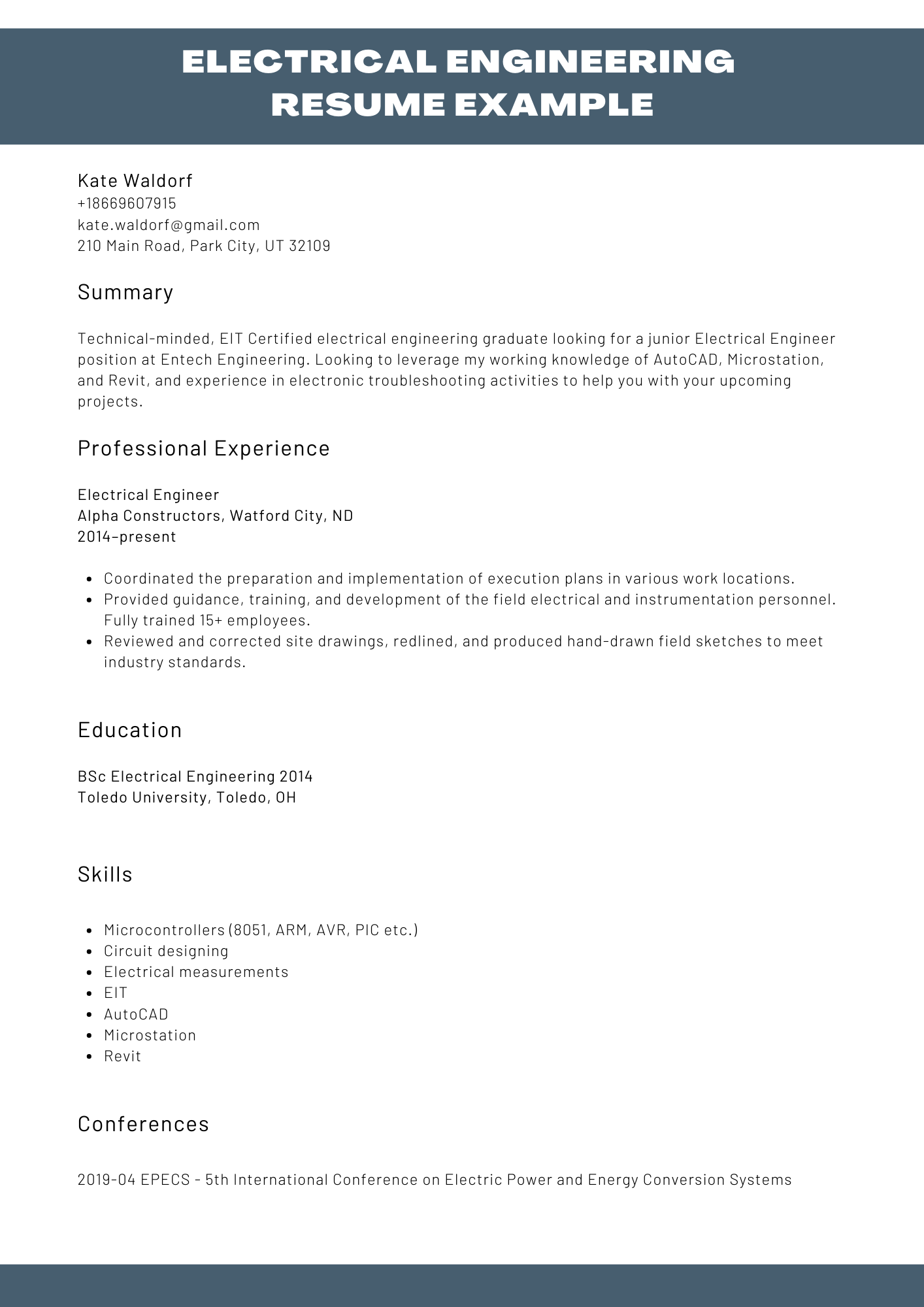 Customer Service Resume
There's hardly a company that does not have customer service representatives on the staff. However, that is no reason to believe that you can get this job by simply sending in your customer service resume. No, it still has to be a well-organized resume that will make you stand out against your competitors, and there is usually no lack of those.
Tips for a Customer Service Resume
There are so many things to keep in mind when writing a resume, we want to help you do the best job and avoid some common mistakes that can cost you a job interview.
A customer service resume should perfectly fit on one page. However, if you think there are some things that should absolutely not get left out, you can make it two pages. Just remember, it should be readable and properly distributed. Whenever possible, do shorten things and only keep the most relevant and important information.
Since the Summary section and Skills are the blocks your potential employer is likely to check first, you can use them to mention some of your previous jobs and achievements that are sure to make him or her continue reading to see if you are a fit candidate for the position. Do this in a subtle manner, of course. You don't want to make these sections too long and cause an opposite reaction to the one you expect.
Skills for a Customer Service Representative Resume
There's no end to improvements, but there is a start, and you can start by making sure you included some crucial customer service skills for resume.
great communication skills, both written and oral;
efficient use of Microsoft Office programs;
fast typing skills (at least 60 words per minute);
excellent time management;
attention to details;
knowledge of foreign languages;
confident use of customer relationship management software.
These are some of the general skills employers look for in a customer service resume, but make sure to check the job description and add any necessary skills if they are relevant for you.
Customer Service Resume Samples
A resume for a customer service representative follows the same structure and the rules most other resumes do. You should start with your contact details, then write a resume summary, work history, achievements, education, and certifications (if any). It's more advisable to focus on your accomplishments and examples of how you helped the company to improve a certain aspect or fixed an issue. And nothing teaches better than a good example, so check these customer service resume samples we have got for you.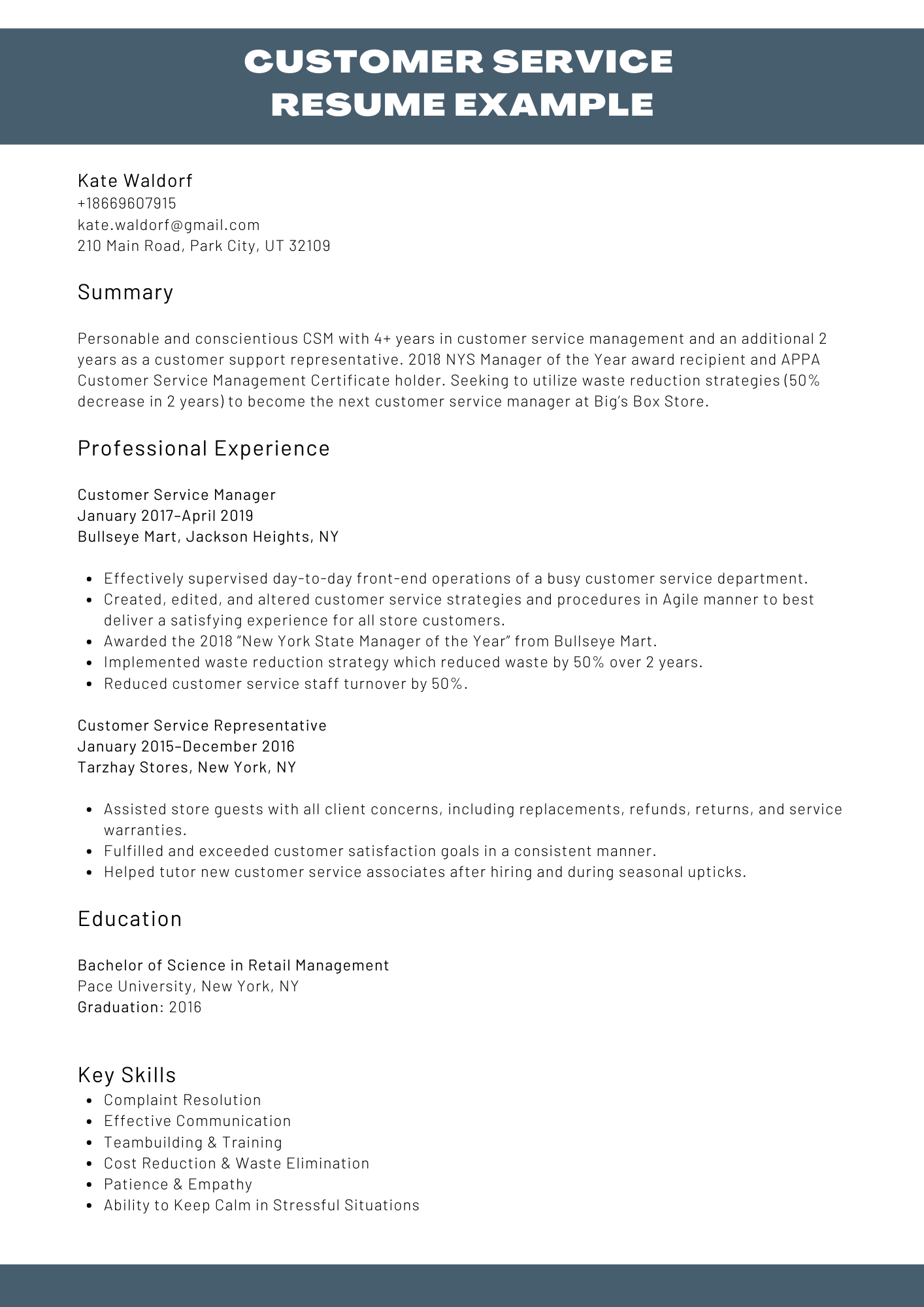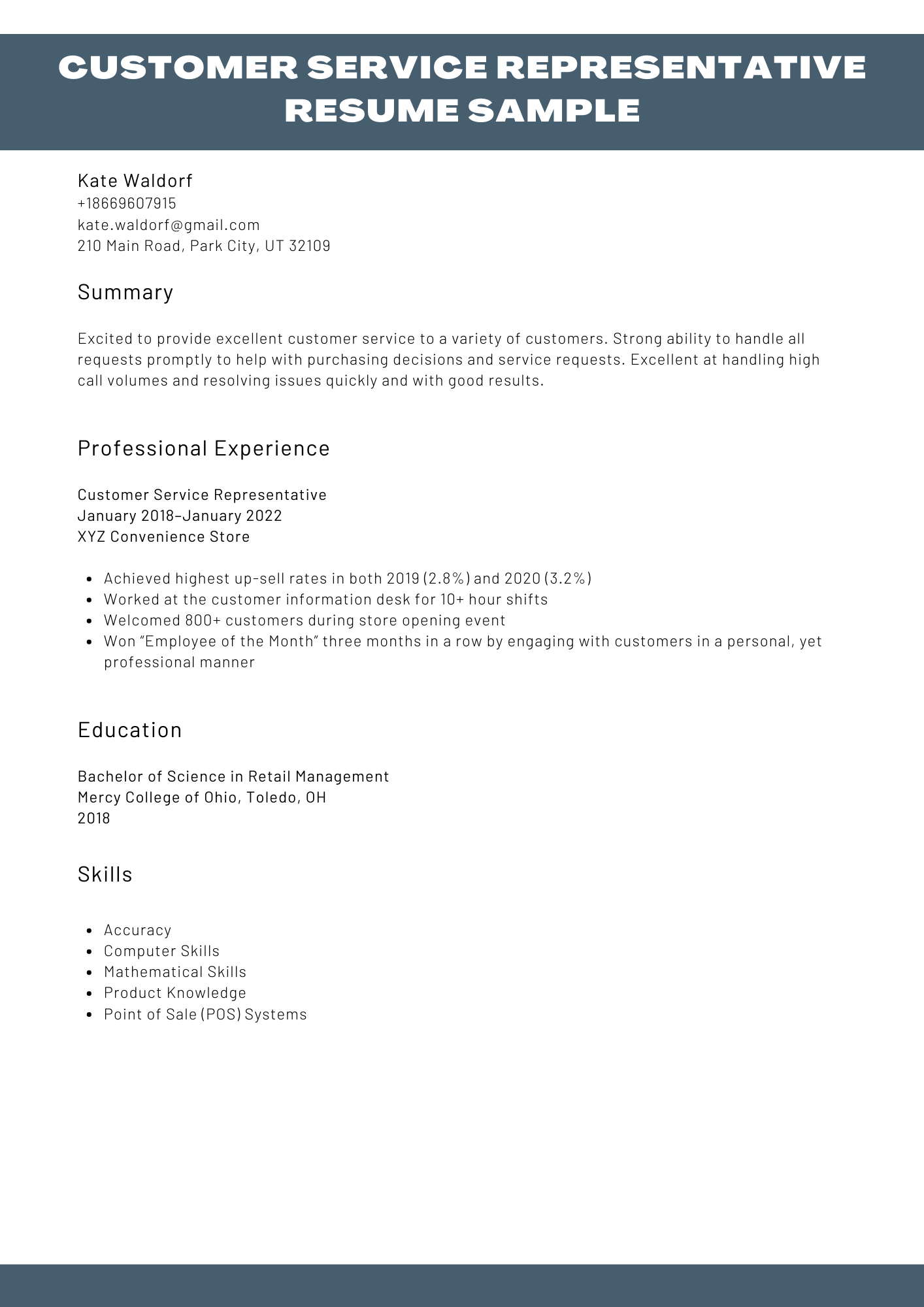 Write a Great Resume or Order One
Hopefully, you found what you came for and have a clear plan for writing or rewriting your resume after having checked our resume samples. Don't leave just yet, as we have a couple of useful tips for any kind of a resume that many jobseekers tend to forget.
Keep things simple. Only write what is relevant and organize sections in such a manner that there is enough free space. That way, it will be easier for a reader to automatically focus on what you want to highlight. Besides, don't try to impress anyone with some fancy design, go for a conservative and moderate look instead. Trust us, you will hardly impress any HR manager who has to deal with countless resumes of all shapes and colors.
Unless you are changing your career path or have noticeable periods of unemployment in your work history you don't want to draw attention to, go with a chronological resume format starting with the most recent job. It is also the one employers see the most, so it will be easier for them to read and comprehend.
Keep those things in mind, study our resume examples carefully, and you will soon get invited to a job interview in the company you're aiming for. Or use our
resume writing service
to help you deal with that in the most efficient manner. Order now or contact Resume101 customer service if you have any questions. We'll be happy to help you in any way we can
Suggested Reading: